A tour about the details of the city, walking through the hidden streets, the hidden treasure the architecture and the special places the locals still consider to be authentic. The small tours will not step on any toes, and I hope that the people who join will respect the culture and that will allow them to experience the city in a different light, in the shadows, as observers as well as travellers and not tourists.
Small streets, galleries, street art, the nooks of the city, small pubs, affordable lunches, places to shop right and how to see differently.
IMPORTANT INFORMATION
This tour is not about facts or historical dates and names, its about walking through a beautiful city and making up your own story you can take home with you.
BOOK A TOUR
To book this tour please choose a date and timeframe.
The Lovli Local will receive your request and let you know if the tour is available on this date and suggest a time.
All tours by Lovli Local Abner
ABNER, AMSTERDAM
Hi, I am Abner, Artist,story teller in Amsterdam. I'm passionate about art, books, graffiti, beer, and architecture. My Motto: see differently
Show all tours in Amsterdam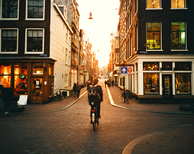 AMSTERDAM
Have you ever seen a sight on a sight riding through a sight? What sounds like an intricate affair is daily business in Amsterdam: upright Am...