Come enjoy a sunny afternoon slacklining in a beautiful park, followed by a nice cold beer at non tourist-trap locations :)
You will start with a quick 5 min lesson on how to set up your own line. Following this, is right onto getting active; start with a quick warm up and then straight to the rope.

For beginners ("0" experience to being able to take a few steps):

- Practice your balance on each foot
- Body position
- Determine your balance's view point
- Take your first steps
- Learn up to two beginner tricks (depends on level/fastness of learning)

For intermediate:

- Better your body balance
- Learn new tricks (lay down, Buda, turn around and others depending on experience)
- Have your first go on a 25 m line (depending on level)

After the lines, join on a short walk to a special area of town where you can avoid the tourist traps and have some cheap drinks and food (1 beer pp included at the first local bar where the activity will officially finish).
IMPORTANT INFORMATION
Bring water and confortable clothes
Maximum 3 people
Must not have physical problems/disabilities
Contact for full availability
BOOK A TOUR
To book this tour please choose a date and timeframe.
The Lovli Local will receive your request and let you know if the tour is available on this date and suggest a time.
All tours by Lovli Local Pedro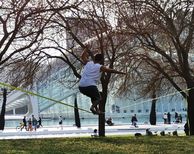 PEDRO, VALENCIA
Hi, I am Pedro, Guide at the Bioparc in Valencia. I'm passionate about Slacklining, photography, and a nice beer. My Motto: Enjoy life, share what you love
Show all tours in Valencia