Always wanted to see Amsterdam through the eyes of a lifestyle blogger? I will show you some of my favourite shops, inspirational concept stores and that one place to get the best coffee in town! Join me and explore Amsterdam!
Amsterdam is so much more than the touristic attractions like The Red Light District and Kalverstraat. Hidden designer shops, the most beautiful home stores and delicious delis are just around the corner. As a lifestyle blogger, I really enjoy exploring these kind of hidden treasures in my town and I'd love to show you some of my favourite finds!
IMPORTANT INFORMATION
Tour tailored for lovers of fashion, home-decor and lifestyle. Public transport chip card (OV-Chipkaart) recommended, but not required. Sadly, not suitable for wheelchairs.
BOOK A TOUR
To book this tour please choose a date and timeframe.
The Lovli Local will receive your request and let you know if the tour is available on this date and suggest a time.
All tours by Lovli Local Anne
ANNE, AMSTERDAM
Hi, I am Anne, a blogger and student in Amsterdam. I'm passionate about fashion, photography, and playing video games. My Motto: Explore the world, like a local!
Show all tours in Amsterdam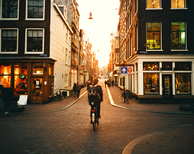 AMSTERDAM
Have you ever seen a sight on a sight riding through a sight? What sounds like an intricate affair is daily business in Amsterdam: upright Am...