Hi there and welcome in Amsterdam! I would like you to introduce the city in all its forms. Hotspot or nonspot, if it's part of my city I'll make sure that it won't go unnoticed.
I have two tours:

One in which I can show you the ropes and make sure it fits your needs. Then you can make a choice to explore some parts even further (from the places to eat and drink coffee to bowling alleys and museums).

Second tour includes a full tour where we will actually visit museums, etc. (tickets not included).
IMPORTANT INFORMATION
E-mail me for current programme (I like to adapt it to whatever it going on right now in the city, from festivals to exhibition openings).
BOOK A TOUR
To book this tour please choose a date and timeframe.
The Lovli Local will receive your request and let you know if the tour is available on this date and suggest a time.
All tours by Lovli Local Ilona
ILONA, AMSTERDAM
Hi, I am Ilona, student English Language & Culture in Amsterdam. I'm passionate about photography, coffee, magazines, art fairs, and literature. My Motto: We cannot live only for ourselves. A thousand fibers connect us with our fellow men.
Show all tours in Amsterdam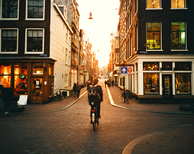 AMSTERDAM
Have you ever seen a sight on a sight riding through a sight? What sounds like an intricate affair is daily business in Amsterdam: upright Am...