2.5 HOUR THE HAGUE BIKE TOUR BEYOND BORDERS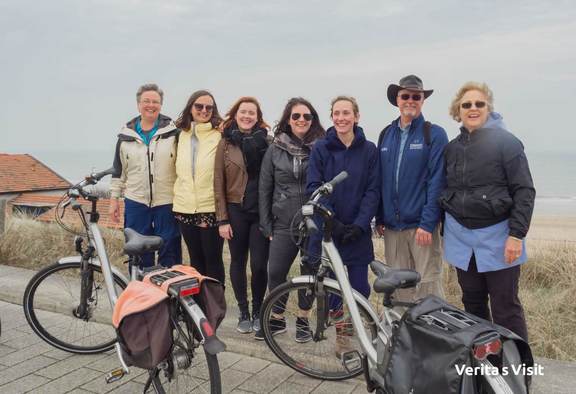 A relaxed bike tour of 2.5 hours for the whole family through green parks and along the golden beach. Follow your guide on a journey through time and space. From the oldest building of The Hague through parks and estates. Drink at a greenhouse included!
The Knight's Hall in city centre The Hague is not the oldest building in the city. In this journey of discovery you see which one is. You'll also visit one of the few remaining windmills in The Hague. Your guide will take you through parks and estates. Then it's up to you. Do you immediately want to head for the dunes and the North Sea or do you first want to have a drink in a greenhouse?

This is a short 2.5 hour bike ride through a less touristy district of the city of Peace and Justice. An ideal outing for the whole family with lots of sights and stops.

Individual registration is possible for the bicycle tour on the first Thursday of the month. This tour is €37.50 p.p. This includes regular bike rental, a visit to the windmill and a drink in a greenhouse.
IMPORTANT INFORMATION
- Price includes regular bike rental and 1 drink enroute.
Other bicycles such as parent-child tandem, tandem, electric bike, can be arranged for an extra fee.
- Transportation and lunch/ dinner can be arranged as well.
- Ask for extra fun activities to add to this tour.
- This cycle tour around The Hague can only happen with 4 people or more.
- Your local guide speaks English, Dutch and Spanish.
- In case of really bad weather the tour will be rescheduled or you get your money back ( with deduction of administration costs)
BOOK A TOUR
To book this tour please choose a date and timeframe.
The Lovli Local will receive your request and let you know if the tour is available on this date and suggest a time.
All tours by Lovli Local Vera
VERA, DELFT
Hi, I am Vera, cycling & local food fan in Delft. I'm passionate about stroopwafels, being outdoors, countryside, local entrepreneurship, and Dutch cheese. My Motto: Explore #hollandbybike and get #socialwithalocal
Show all tours in The hague
THE HAGUE
With half a million inhabitants The Hague offers a variety of neighborhoods from very poor to very wealthy just next to each other. It combin...