Posted by
about 6 years ago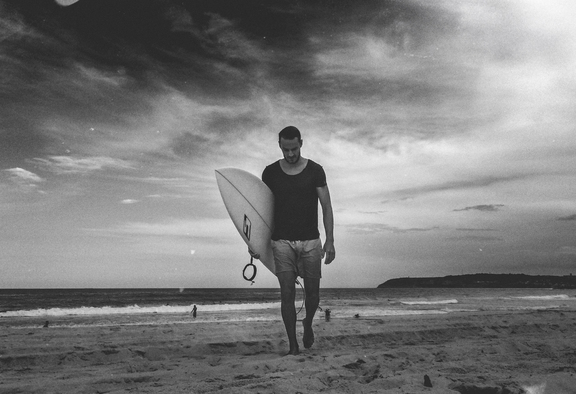 Miro is a freelance motion graphics director and lives in lovely Graz. He just returned from an epic 9 months trip to the most beautiful surf spots on this planet and proves to be a true independent traveler. He told us more about his views on traveling for our latest edition of VOICES.
Find out about his creative work here: www.wrlk.tv
WHY DO YOU TRAVEL? First of all, travelling is tons of fun for obvious reasons: to set out and explore remote countries and cultures, connect with amazing open-minded people, disconnect from your everyday life and indulge your individual passion such as sports, outdoor activities or simply sightseeing.
Though, as I see it, travelling also significantly adds to your personal development and provides a fresh perspective on your daily grind back home. The experiences you come across while travelling often challenge you on multiple levels, reshape your behavioural patterns and help reveal what kind of character you truly are. Whether you attempt an analytical approach or follow your gut instinct, your problem solving skills will skyrocket without a doubt and you'll become a lot more self-confident in making decisions.
Nowadays I mainly travel to go surfing which is a great way to combine all of the above. You get to see places off the beaten track, quickly get to know the locals and experience life authentically by cutting your own path much rather than staying in fancy hotels, taking guided tours and booking prearranged deals.
WHICH CITY OR COUNTRY DO YOU CALL HOME? As a quite active traveller and a freelance motion graphics director working all over Europe that's a bit of a tricky one to answer since I'm on the road for the better part of the year. I like to see Graz/Austria as my home base because I usually stay there when I'm not busy working or travelling and, most importantly, some of my very best friends and family live there. It's a great place to spend time close to nature and recharge my batteries.
WHAT IS YOUR FAVORITE SPOT IN THIS CITY? There are heaps of great spots to see in Graz though if I have to decide I'd probably say Parkhouse - an old milk bar from the 80s now serving as a nice little bar/café in the heart of the city park offering free open-air concerts as well as nightly dj gigs. I spent countless days with friends there having drinks in the sun, listening to great live acts or partying all night long.
DID YOU EVER TRAVEL TO A PLACE WHERE YOU FELT TOTALLY LOST? First of all, I believe that feeling lost is not an actual, real situation but a state of mind, so it's mostly up to you to allow this feeling to take control. Obviously, remoteness and exposure to the unknown can be quite intimidating. On my recent 9 months trip around the world I spent quite some time in solitude at pretty secluded places on this planet. It can be tough at times to be all by yourself, far from everything you know and everyone you love but the fact that this was only temporary encouraged me to fully enjoy this exceptional opportunity to see the world, surf empty waves and self reflect.
WHAT WAS THE LOVELIEST PLACE YOU'VE EVER TRAVELLED TO? That's almost impossible to answer but I'll try to divide this question into two categories: urban and rural. To me, Lisbon in Portugal is one of the most exciting cities and I think I haven't been to any other city in Europe nearly as often. It's the vibe, the people, the food, the nightlife, the strong connection to the ocean and the possibility of surfing every day that makes Lisbon one of my favorite city destinations. On the rural side it would probably be the small township of Raglan on the west coast of the North Island of New Zealand. I immediately fell in love with this dreamy little beachside town famous for its world class surf breaks. Hanging out with some of the most friendly and hospitable people you'll find on this planet makes it a truly lovely place and I could have easily spent many more months right there. Also, if you're into sunrises and sunsets - look no further, it won't get any better than Raglan, promise!
IS THERE SOMETHING YOU NEED WITH YOU TO FEEL MORE AT HOME WHEN YOU ARE TRAVELLING? When I travel I actually try to detach myself from everything materialistic except for my equipment like surfboards or hiking/climbing gear. To me, it's one of the best feelings in the world to just hang out barefoot, in boardshorts and a t-shirt and it always reminds me of how little I need in life to be truly happy.
DO YOU KNOW HOW MANY COUNTRIES YOU HAVE BEEN TO? Close to 40 countries so far.
WHAT IS YOUR NEXT DESTINATION? Up next is a surf trip with some of my buddies and we're currently discussing Portugal, Spain, France, California, Central America and South Africa.
DO YOU HAVE AN ESSENTIAL ADVICE TO OTHER TRAVELLERS? I've met a lot of people making excuses and procrastinating their travelling plans but there is simply no right time to take off and go travelling. You just have to get out there and experience this magnificent world for yourself. Be open-minded, follow your gut instinct and don't be afraid of anything. Be it a spontaneous city trip with friends or the longest trip you've ever done - it'll always be worth it and rewarding without exception. You'll have the most amazing time of your life and the most incredible stories to tell your kids!
Tweet