Hi, I am Truman, chef, photographer, and artist in Oslo . I'm passionate about analog photography, food, music, dancing, laughing, and learning. My Motto: Start a people.
INTERVIEW
What makes you a lovely Lovli Local?
My never ending curiosity. I am not native to Oslo, rather a born and bred American who just happened to have a Norwegin mother. I Moved to Oslo over two years ago to explore the Norwegian side of my heritage. Since then, I have injected myself into the Norwegian way of life and am happy to call Oslo my new home. I thrive within the rich & teeming culture of Oslo, and love to share this with others. Come get lost with me, who knows what you'll find :)
What makes your tours different to others?
My tours can be very open-ended, leaving lots of room for us to play things by ear and leaving nothing set in stone. I like to incorporate some room to breathe and just enjoy the city, not be stressed by rushing around trying to get to every museum before they close. If you're looking to be taken off the beaten path and treated to some real gems that only the locals know about, I'm your guy. I am a man of many interests, and I try to build a tour around each one. If you're looking for a culinary safari of all Oslo has to offer, or a nice leisurely afternoon hike and picnic in the ancient forests, expect anything and everything!
What do you like most/least about your city?
The price tags!!! Oslo is at the top of the charts when it comes to cost of living. I promise I will show you the cheapest ways to live, but even so, be ready for a "wallet-shock" Oslo can be a bit chilly, even in the summer, so it's always a good idea to bring a light jacket or sweater.
If you could travel anywhere in the world, where would you go?
To Tibet and Nepal, I want to see the Buddhist temples and live in a simpler manner.
What's the one thing you can't live without?
The love and support of friends and family all around the world. Outr lives are such precious things, and I think the fact that we an share them with others is wonderful!
What's your favorite smell?
The smell of fresh elderflower blooms, come see!!
Show all tours in Oslo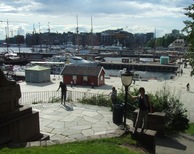 OSLO
Welcome to Oslo - a city, not only famous for a scream and its ancient viking roots.