Hi, I am Stephan, an artist and writer in Leipzig. I'm passionate about good conversation, strolling around the city, and reading literature. My Motto: "Art is what makes life more interesting than art." Robert Filliou
INTERVIEW
What makes you a lovely Lovli Local?
The smile on my guests' faces.
What makes your tours different to others?
Just look at my tour descriptions! I am sharing my wider neighborhood. Having lived in many different cities and widely travelled, I can connect to other realities and find common grounds or highlight particularities, here and there. I am passionate, and even more so if my guests are passionate, too.
What do you like most/least about your city?
I consider Leipzig to be the best spot in Germany to live at – for its vibrant artistic present, its broad and rich past and its promising future. In a nutshell center you can unfold centuries of German and European history, the political one but also the one of the arts - music, literature, painting and sculpture, of science and industry, the book trade and the life of the second oldest university in the country. City of superlatives - and very often justified. At the same time: relaxed people, excitingly unexcited. Least? The still lacking broad offer of international flight connections. As someone once put it: It is easier to be carried away (sic) if you are a parcel than if you are a person. Leipzig Airport is Europe's main airport for DHL freight.
If you could travel anywhere in the world, where would you go?
After having travelled quite a bit, I would say: there are still a few spots I'd like to go to (such as Vietnam), but any journey, as of now, would only be a reason to be able to come back - to Leipzig!
What's the one thing you can't live without?
Freedom
What's your favorite smell?
The scent of Laphroig whisky, once the glass is empty. It reminds me of the childhood excitement when you are too little still to grab the handle, and need to stand on a stool in order to reach the upper cupboard. You know that in that tin box up there you can find granny's best biscuits.
Tour information for Go east!
GO EAST!
With my tour 'Go East!', I invite you to become part of a 2 hour experience, and discover an up-and-coming part of Saxony's largest city. Be...
€ 90,00
Tour information for Stay central!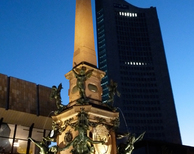 STAY CENTRAL!
With my tour 'Stay central!', I invite you to become part of a 2 hour experience, and discover the historic city centre of Saxony's largest c...
€ 90,00
Show all tours in Leipzig
LEIPZIG
Knowledge and books is what Leipzig has been known for ages but there is much to this beautiful city to discover!