Hi, I am Pedro, Guide at the Bioparc in Valencia. I'm passionate about Slacklining, photography, and a nice beer. My Motto: Enjoy life, share what you love
INTERVIEW
What makes you a lovely Lovli Local?
Having been introduced to slacklining by a friend about 8 years ago I went ages without getting into it due to the weather in the UK. Some years after I moved to the Canary islands, got a rope and couldn't stop practicing, just loved it! Eventually my enthusiasm got people from my hostel interested so I started organizing it for guests. We would all get together, grab some beers, enjoy the sun and slackline!! It lead me to discover new parks in different cities, like Italy and Malta where I also taught it to guests of hostels I worked at. After moving to Valencia, found an amazing zone of the park near the hemisféric to put my lines and been giving lessons sometimes to people that stop by. I actually became friends with one of them (a couple that dropped by on a session) and they gave me the idea for this :)
What makes your tours different to others?
Slackline? Beer? But for all the details check out: You will start with a quick 5 min lesson on how to set up your own line. Following this, is right onto getting active; start with a quick warm up and then straight to the rope. For beginners ("0" experience to being able to take a few steps): - Practice your balance on each foot - Body position - Determine your balance's view point - Take your first steps - Learn up to two beginner tricks (depends on level/fastness of learning) For intermediate: - Better your body balance - Learn new tricks (lay down, Buda, turn around and others depending on experience) - Have your first go on a 25 m line (depending on level) After the lines, join on a short walk to a special area of town where you can avoid the tourist traps and have some cheap drinks and food (1 beer pp included at the first local bar where the activity will officially finish).
What do you like most/least about your city?
It's sunny, has a beach and a lot of parks and food and drinks are cheap. What's not to like?
If you could travel anywhere in the world, where would you go?
Just missing South America and Russia
What's the one thing you can't live without?
Slacklining
What's your favorite smell?
After years backpacking, the smell of clean clothes :)
Tour information for Pedroslacklining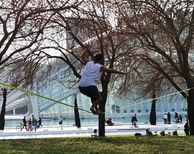 PEDROSLACKLINING
Come enjoy a sunny afternoon slacklining in a beautiful park, followed by a nice cold beer at non tourist-trap locations :)
€ 21,00
Show all tours in Valencia