Hi, I am Marie-hélène, Copywriter at Tommy Hilfiger and Calvin Klein in Amsterdam. I'm passionate about fashion, art, lifestyle, food, design, and music. My Motto: Keep it sweet
INTERVIEW
What makes you a lovely Lovli Local?
I am a social butterfly who enjoy to walk through the cities in order to spot the nicest and the most unique places where to shop, have a lovely brunch or experience new art/design.
What makes your tours different to others?
My tours will be focused on high quality lifestyle in Amsterdam and experiencing the local trends as well as the local creations. Amsterdam is well known for its amazing design as well as fashion, I will take you for a tour into the best concept stores as well as vintage stores that contribute to give to Amsterdam its so special vibe. We will end the tour in a very nice concept store that offers the best coffee and cakes in town!
What do you like most/least about your city?
it is lively and creative. The cultural offer is absolutely amazing. At the same time the human size of the city makes it very pleasant and cosy.
If you could travel anywhere in the world, where would you go?
Everywhere but I will take a long break on an Island in the sun.
What's the one thing you can't live without?
I cannot imagine not going back home in Corsica at least once a year.
What's your favorite smell?
Depends at what time of the day ;-)
Tour information for A tour of amsterdam's independent stores
A TOUR OF AMSTERDAM'S INDEPENDENT STORES
A tour for urban citizens who enjoy to discover a city through its stores, cafe, restaurants as well as cultural venues.
€ 20,00
Show all tours in Amsterdam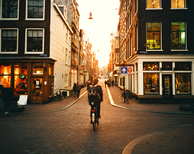 AMSTERDAM
Have you ever seen a sight on a sight riding through a sight? What sounds like an intricate affair is daily business in Amsterdam: upright Am...