Hi, I am Maarten, online marketeer in Amsterdam. I'm passionate about analog photography, travelling, bottom-up initiatives, and art house movies. My Motto: it's all about timing.
INTERVIEW
What makes you a lovely Lovli Local?
i've been living in amsterdam for 10 years now and truly feel like a local. i'd love to share my hidden secrets and thinks there is so much more cool stuff to discover besides all lame tourist traps in the red light district of amsterdam.
What makes your tours different to others?
there is no such thing as my amsterdam tour
What do you like most/least about your city?
the most: all bottom-up initiatives which represents the real amsterdam creative scene. the least: the city centre with all the tourist businesses like the red light district, coffee shops and sex musea crap.
If you could travel anywhere in the world, where would you go?
the solomon islands
What's the one thing you can't live without?
the love of my life, anna
What's your favorite smell?
the smell of the twig when you pick a tomato.
Show all tours in Amsterdam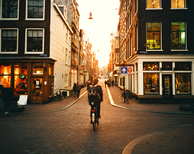 AMSTERDAM
Have you ever seen a sight on a sight riding through a sight? What sounds like an intricate affair is daily business in Amsterdam: upright Am...