Hi, I am Lilian, trip organiser in Amsterdam. I'm passionate about design/food/art/hidden places/ PEOPLE. My Motto: amsterdam is always fun
INTERVIEW
What makes you a lovely Lovli Local?
i am passionate about Amsterdam and also very very nosey... always looking for new places and especially new people with exciting ideas
What makes your tours different to others?
For years I arrange tours for international journalists, so I know a lot of people that make Amsterdam such a fun city to visit. The places we visit are open to public but they always have something extra that makes them stand out..
What do you like most/least about your city?
What i like most about Amsterdam is the free spirit. Amsterdam has always been open to people of different background and that makes the city such a great place. Least liked are rude people, but they are everywhere. Most Amsterdam people are friendly
If you could travel anywhere in the world, where would you go?
Australia, because that is exactly on the other side of the world.. how come they dont fall off?
What's the one thing you can't live without?
water .. and Amsterdam water is filtered by the dunes, it is the best tasting water.. and then add also chocolate and beemster cheese and a raw herring, koffie verkeerd,
What's your favorite smell?
Flowers.... all year round there are so many everywhere in Amsterdam.
Show all tours in Amsterdam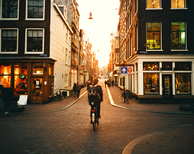 AMSTERDAM
Have you ever seen a sight on a sight riding through a sight? What sounds like an intricate affair is daily business in Amsterdam: upright Am...