Hi, I am Johanna, buggy hike , cooking in Salzburg. I'm passionate about nature, kids, animals, and cooking. My Motto: enjoy nature with the whole family or enjoy traditional austrian food
INTERVIEW
What makes you a lovely Lovli Local?
I love to talk to people from all over the world!
What makes your tours different to others?
my focus is on the interests of the kids.
What do you like most/least about your city?
nature is all around the city. lakes, mountain, woodland...
If you could travel anywhere in the world, where would you go?
diving in Indonesia, fotosafari in Botswana, shopping in New York,listening Jazz and Blues in New Orleans..... everthing but no package tour
What's the one thing you can't live without?
my red "Waldviertler" shoes
What's your favorite smell?
the smell after the rain
Show all tours in Salzburg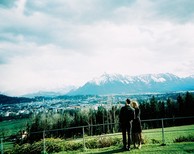 SALZBURG
The surroundings of Salzburg ecstasize visitors with perfect lake and mountain sceneries. And they are encircling the city with some severe o...