Hi, I am Frank, host in Amsterdam. I'm passionate about football (soccer), cinema, coffee, media, horeca, and fair & green products. My Motto: it ain't what you do it's the way that you do it
INTERVIEW
What makes you a lovely Lovli Local?
I suppose every Lovli Local has more than average set of social skills, will be open to meeting new people and display a hospitable attitude. In addition to that I try to cruise through life and take people with me in that flow, making them smile and taking things easy; I value time more than (spending a lot of) money (which, I do admit, can also be nice). Moreover I will not appear more of a hipster than the (of course very cool) father I am, but I try to be entertaining and love to share my enthousiasm about my favorite hotspots in my favorite fun city.
What makes your tours different to others?
(will finish this - and the previous answer - later).
What do you like most/least about your city?
Most: the size (small); the cycling culture; the crowded streets (dynamic/busy/sparkling) with mainly creative, open minded, beautiful people; the cultural life; the architecture and the canals; the huge amount of bars and cafes. Least: the traffic (danger for kids, pollution, noise) and I also would like to see more open spaces and playgrounds.
If you could travel anywhere in the world, where would you go?
First to New York, Prague, London or Vancouver.
What's the one thing you can't live without?
My children - but I will think about something less true but more original.
What's your favorite smell?
Sea, forest, freshly cut grass.
Show all tours in Amsterdam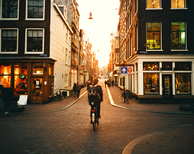 AMSTERDAM
Have you ever seen a sight on a sight riding through a sight? What sounds like an intricate affair is daily business in Amsterdam: upright Am...