Hi, I am Edwin, Special Camera Operator in Salzburg. I'm passionate about jam sessions, motorcycle rides, and longboarding. My Motto: Ride Hard & Travel Gentle
INTERVIEW
What makes you a lovely Lovli Local?
I never put anybody in a box and I like people.
What makes your tours different to others?
Mainstream isn't my stream. Since I make my tours for a long time I just know when to go where.
What do you like most/least about your city?
most: The nature around and the culture least: it's very hard to get to know someone
If you could travel anywhere in the world, where would you go?
where I haven't been before
What's the one thing you can't live without?
my guitar
What's your favorite smell?
Fresh roasted coffee beans
Tour information for Ride the lakes
RIDE THE LAKES
A guided motorcycle tour around the most beautiful lakes from Salzburg to Upper Austria.
€ 20,00
Show all tours in Salzburg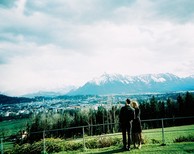 SALZBURG
The surroundings of Salzburg ecstasize visitors with perfect lake and mountain sceneries. And they are encircling the city with some severe o...