Hi, I am Christine, Flight attendant in Frankfurt am main . I'm passionate about Photography, Shopping, and traveling. My Motto: Everyone smiles in the same language
INTERVIEW
What makes you a lovely Lovli Local?
As a flight attendant I see lots of different places but I always prefer to be at home ☺️ I love my city and I like to show it to the world! In my Job I meet lots of different people from all over the world and I love to talk with them about their homes and always ask for places to go to wich are not in a regular guidebook. Now I'd like to show them my favourite places in my hometown.
What makes your tours different to others?
Appart from all the skyscraper and Buisnesse People Frankfurt has also a unstressed side. With lots of different Parks, lovely Cafés and litte shops. I'd like to show how beautifull an full of life Frankfurt is.
What do you like most/least about your city?
I love the districts Bornheim and Nordend behause of its lovely Parks and different Shops! No mainstream or hustle and bustle. Lots of studens, young cupples or little familys. Cafes with handmade cakes or tasty Apfelwein 😊
If you could travel anywhere in the world, where would you go?
Propably New York, San Francisco, London or Barcelona. My fav towns all over the world. But I have never been to scandinavia. I'd like to see Stockholm or Copenhagen!!!
What's the one thing you can't live without?
My children
What's your favorite smell?
The smell of spring ❤️
Tour information for Relaxed tour through the hectic city of frankfurt
RELAXED TOUR THROUGH THE HECTIC CITY OF FRANKFURT
I will walk with you through the streets of Frankfurts districts Bornheim and Nordend. Apart from all the skyscrapers and buisness people Fra...
€ 40,00
Show all tours in Frankfurt am main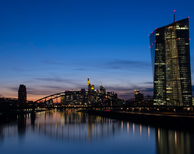 FRANKFURT AM MAIN
A city bustling with every aspect of finance, the home of one of the biggest airports of the world and at the same time a place to chill out ...