Hi, I am Anne, a blogger and student in Amsterdam. I'm passionate about fashion, photography, and playing video games. My Motto: Explore the world, like a local!
INTERVIEW
What makes you a lovely Lovli Local?
What's better than strolling around a city and discovering the real treasures that a place has to offer, instead of the same old tourist attractions. My favourite thing in the world is exploring these places and sharing them with others!
What makes your tours different to others?
Nothing worse than finding out there was an awesome store opening in a city you just visited a couple of days ago. Or imagine this: You missed out on the best cheesecake in town served in a small deli, just because it wasn't listed in your city guide. In the future, this will never happen again if it's up to me!
What do you like most/least about your city?
Amsterdam is cosy and packed with treasures when it comes to fashion, food and lifestyle. Exciting pop-up stores and restaurants keep it interesting for both locals and tourists.
If you could travel anywhere in the world, where would you go?
I'm a big fan of Stockholm. The people, the atmosphere, I always feel right at home here! I also really want to go to Tokyo one day.
What's the one thing you can't live without?
My camera, I love to capture great moments!
What's your favorite smell?
Fresh coffee in the morning, mmm.
Tour information for Hello, amsterdam!
HELLO, AMSTERDAM!
Always wanted to see Amsterdam through the eyes of a lifestyle blogger? I will show you some of my favourite shops, inspirational concept sto...
€ 20,00
Show all tours in Amsterdam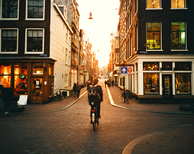 AMSTERDAM
Have you ever seen a sight on a sight riding through a sight? What sounds like an intricate affair is daily business in Amsterdam: upright Am...