Hi, I am Abner, Artist,story teller in Amsterdam. I'm passionate about art, books, graffiti, beer, and architecture. My Motto: see differently
INTERVIEW
What makes you a lovely Lovli Local?
I believe that art allows one the freedom to see differently and the possibility to enjoy a place through the eye of the artist is something special. I know many of the galleries, the secrete little places that other artist use as inspiration, the stories of an particular area, history of the building and to place them in a context which is not always written about in books. There are still little magic places to get a beer, to see locals and interact with the city in a close and comfortable way. I will show a simple way to know the city layout, so that you are not lost, and to be able to get a long with out being lost, and if being lost is your choice, to not feel that all is lost.
What makes your tours different to others?
My tour will investigate the details of the city- I want to bring others to the small and special places that are impossible to know by a bus or a book- things change in the city and I keep up with which gallery has the best shows, which wall has the best graffiti, which bar has the best specials and where to find the centre points of information so that when the tour is over, you will have the tools to find whats hot on your own. We will walk through the streets and feel what a Rembrant painting feels like, look at flowers in a Van Gogh painting first hand,
What do you like most/least about your city?
I love the size of Amsterdam, its very approachable and fun to navigate. The thing I like least about my city is lost tourist that get in the way of the bike lanes, go to all the same places and make a mess.
If you could travel anywhere in the world, where would you go?
I think that the best place to go is where ever I am comfortable. I dont have a place in particular or a specific thing I want to see, I want to go some where where the climate suits my cloths.
What's the one thing you can't live without?
laughter, adventure,beer,books,art,and the ability to see differently.
What's your favorite smell?
Fresh bread, coffee,chocolate, and the smell of the sun coming up.
Tour information for Seeing differently
SEEING DIFFERENTLY
A tour about the details of the city, walking through the hidden streets, the hidden treasure the architecture and the special places the loc...
€ 20,00
Show all tours in Amsterdam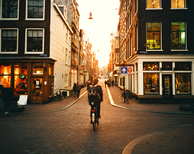 AMSTERDAM
Have you ever seen a sight on a sight riding through a sight? What sounds like an intricate affair is daily business in Amsterdam: upright Am...