BOLOGNA
A city with many names and even more exciting places. What are you waiting for?
Aaaah.....Bologna, or shall I say "La Grassa" (the fat one) or "La Rossa" (the red one) or "La Dotta" (the educated one)? Let's start with the rather unfortunate name "La Grassa" which developed out of something wonderful and delicious: Bologna's food. Everybody knows Spaghetti Bolognese, a dish that has nothing to do with Bologna, but there is so much more to discover if you want to indulge yourself with Bolognese delicacies. If you are on a diet or more interested in architecture "La Rossa" will excite you with its picturesque red buildings and historic sites. To ease your hunger for knowledge, "La Dotta" has a rich university life with a long tradition to offer. It's up to you what you are craving for!
Tour information for Certosa cemetery bike tour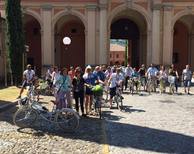 CERTOSA CEMETERY BIKE TOUR
The Certosa Bike Tour will take you to the Historic Monumental Cemetery of Bologna, an extraordinary landmark of Bologna that houses a wealth...
€ 35,00
All tours by Lovli Local Linda
LINDA, BOLOGNA
Hi, I am Linda, Tour Guide in Bologna. I'm passionate about history of art, cycling, and meet people from different nationalities. My Motto: You have to start somewhere!